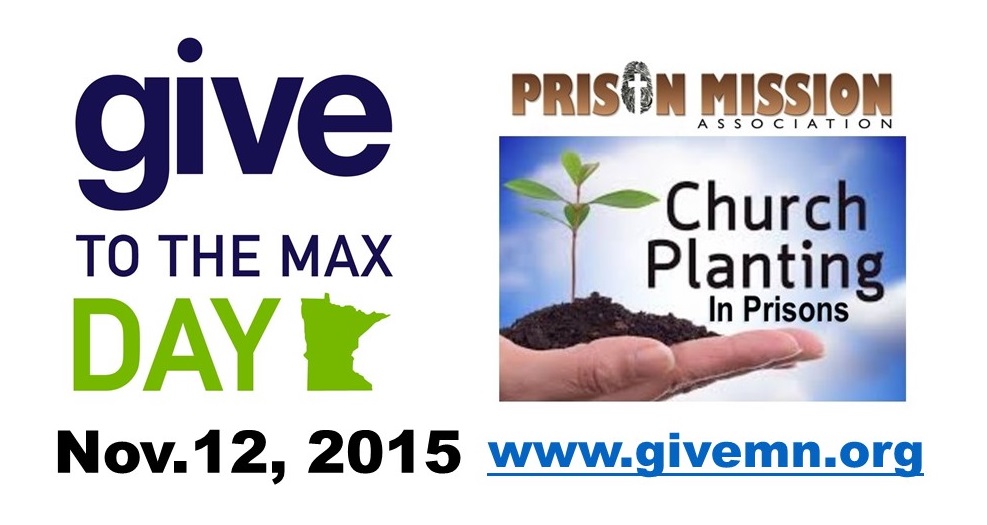 Each year, generous supporters like you celebrate Give to the Max Day by making your online donation on GiveMN.org. Your generosity on this new opportunity to participate for Prison Mission Association on this day makes a difference far beyond the 24-hour giving event.
Please join us on November 12, 2015, for Give to the Max Day and help us continue to change lives by planting churches in prisons by developing Godly leaders with our Bible correspondence courses in all 50 states. We have had over 24,000 students take our courses now over the past 15 years.
Your donation on Give to the Max Day also may help us receive an additional donation of $1,000. How? On November 12, every gift made on GiveMN.org will be entered into an hourly drawing for a $1,000 GiveMN Golden Ticket to be awarded to a nonprofit organization. That adds up to 24 opportunities for you to help us receive an extra $1,000! (If you make donation at odd hours like 3am, you will have an even better chance to win that extra $1,000!)
Here's the really exciting part: One donation made on GiveMN.org will be randomly selected at noon and at the end of Give to the Max Day to receive a $10,000 Super-Sized GiveMN Golden Ticket!
The more gifts we generate on GiveMN.org on November 12, the more our chances increase to receive that additional $10,000 donation. Imagine what we could do with $10,000!
Our goal is to raise $5,000, and you can help us reach it so we can reach so many more hurting families by providing Bible Correspondence courses to men and women and offer a special children correspondence course for those with children to help the whole family!
Every gift of $25 helps us provide courses for two inmates. This year we will have reach over 4,000 new inmates. With about 40-45 percent return rate who do the course and tell us they have trusted in Christ, that will be 1,800 men and women reached in the last 12 months thanks to your prayers, gifts and many volunteers who help us reach our Mission to "Reach inmates for Christ"!
Be sure to mark your calendar  and make your gift on November 12 by visiting GiveMN.org and searching for our organization- Prison Mission Association!
Keep praying, working and loving others to Christ!
Pastor Dwight Anderson
1 Cor. 15:58
Executive Director,
Prison Mission Association – Celebrating 60 years of ministry (1955-2015)
"Providing Life Changing FREE Bible Correspondence Courses with Goal to Plant Churches Behind Bars" both in English & Spanish
Investing in our ministry will make an eternal impact! www.prisonmission.org
mobile: 612-423-3457
PS. If you have not seen our 60th anniversary video clip, click here to watch it: https://www.youtube.com/watch?v=5qyL3rIwV8g