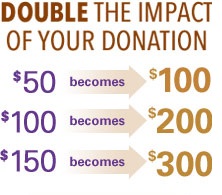 Great news everyone! We are truly blessed that a loyal supporter of PMA has come forward to help with our general fund. They are willing to donate $5,000.00 for the general fund with a provision that we can match the $5000.00 before the 15th of December.
This donation is being made in honor of Pastor Robert Roosendaal, a former pastor of the Port Orchard Grace Bible Church and friend of PMA. This blessing will provide us with the opportunity to continue to mail out our bible studies to the many inmates that seek us out and request to study God's word.
Prayerfully consider donating now knowing it will be matched by this special offer! you can donate online here by clicking the Give word at the top menu or mail a check made out to PMA, PO Box 2300, Port Orchard, WA 98366.
Thanks so much!!